As we sink (UK)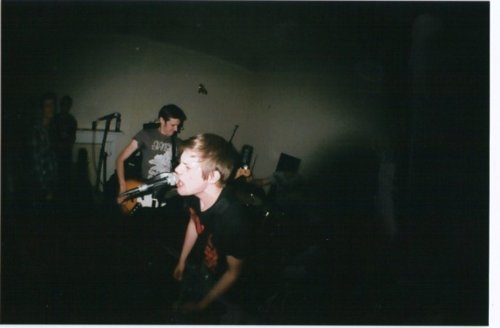 Our first show of 2012 is coming up. It will be an all UK band night. One of those bands isAs We Sink! This three piece play fast, nice, sing a long punk rock. Joe took some time to answer some questions.
Could you please introduce yourself?
I'm Joe and I play the drums, Sam is our Guitarist and vocalist and Chris is the bassist. We play punk rock music in As We Sink.
Where are you from, what have you done so far, and what are your future plans?
We are from South West of England, and we have played lots of shows around the UK, and have done a few tours and weekenders. We have a split 7" with our friends Donnie Brasco. We are coming to mainland Europe this month and we are hoping to do as many tours and shows as possible this year. Over the last few months have recorded an EP which is going to be coming out very soon, which we are all really excited about.
What are your songs generally about?
Our latest EP is about our lives. Things like making big decisions to push yourself forward, working shit jobs and earning no money while trying to make the band work. Just stuff we can relate to really.
Last November all your gear got stolen, which must have been devastating. Could you explain your feelings on this? Have you found any of the gear back?
It's every bands worst nightmare to have their gear stolen, but we found it hard to dwell on it as we had so much support from friends, bands and promoters. There were people lending us gear, buying our merch and collecting at shows to help us out. The amount of support was overwhelming, and just shows how the scene can pull together when things go really wrong. Some of the stolen equipment turned up in a pawn shop in the city where we live, and the investigation is still going on.
Have you been to the mainland before? What do you expect from touring over there?
We haven't been to the mainland before, but everything we have been told from other bands has been amazing and we are very excited to be playing in new places and meeting lots of new people, in lots of new places.
What is the UK 'scene' like? In addition to the last question; do you think it's different to the mainland?
The UK scene is definitely getting stronger, and as I explained earlier, everyone is really supportive of each other and help out whenever people need it. I think it's a great scene to be involved with, and can't wait to get touring again in 2012.
As 2011 is almost over, could you do a top 10 of your 2011 albums?
In no particular order:
Bangers – Small Pleasures
Great Cynics – Don't Need Much
Crazy Arm – Union City Breath
Goodtime Boys – Are We Now, Or Have We Ever Been
Seahaven – Winter Forever
Horrible Crowes – Elsie
Polar Bear Club – Clash, Battle, Guilt, Pride
Defeater –Empty Days and Sleepless Nights
The Wonder Years – Suburbia I've Given You All and Now I'm Nothing
Basement – I Wish I Could Stay Here
Anything you'd like to add?
Thank you to everyone who has shown support to us, and especially when we were going through hard times last year. It's a new year now, and we are going to play as much as possible to new people, in new places.
We'd like to thank Joe for his answers. Please be sure to check their new EP out, we'll let you know when it's out. Also come down to check them out live on Wednesday January 25th in Cafe Asgard, Beverwijk (20:00h, free entry) with Fights & Fires, The Shuffle, and Truro.