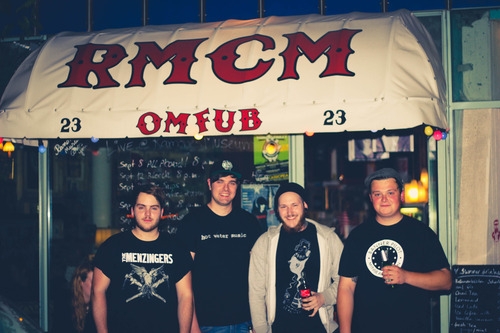 On October 16th we'll have another punk show in Cafe Lokaal, Heemskerk. It's been a while since we've had a punk night at that bar, so we thought we'd put on some amazing bands. Besides Elway (US) and Translated, All Aboard from Germany will fill our lives with some punk rock joy. We had a little chat with Marius on music, touring, partying, and all other important things in life.
Could you please introduce yourself?
We're All Aboard!, a punkrock band from Monchengladbach, Germany. Artur plays guitar, Nils plays bass, David plays guitar and sings and I'm Marius and play drums.
Who or what has influenced your music? What are you listening to at the moment?
Just to name a few: Descendents, Black Flag, Hot Water Music, Alkaline Trio and so on. We listen to loads of the bands playing THE FEST. We're good friends with Nothington, Red City Radio and many more in the American Punkrock scene. When we're in the van we listen to the new THE HOLY MESS record lately. Also the latest ELWAY E.P. is pretty damn good.
What have you released so far? Anything on the shelf?
We started out with a Demo in 2010. On tape. All DIY. Than we had the Radio E.P. out in April 2010. After that we did a split 7" with a German punkrockband called Francesco. It got more professional with our first album called 'Twelve Little Compliments' which we released in September 2011. We're very proud of our new baby 'Opportunities'. It's a 7" EP due out in October 2012. Get your hands on this sweety!
You're touring with Elway this tour. How did that come together? What do you expect of touring with an American band?
How stuff like this comes together :) I loved the band since their 10-4 Eleanor days. A friend of mine, Ryan who plays/played in a band called SPANISH GAMBLE first showed them to me. I was really blown away. So then they came up with ELWAY and I liked it even better. Due to funny circumstances I found out that Tim, lead singer of ELWAY was playing drums on the NOTHINGTON tour last year. We played a couple of shows together and somehow he talked his boys into touring Europe. Before that it was basically Chris from Nothington, Benny from Klownhouse Tours and me talking Tim into doing that tour. I really think Elway is one of the best new 'Fest-bands' around. How could you not like them?
What is the best and worst thing of touring?
I guess the best thing is that you're seeing different cities and get to know amazing people everyday. Plus the party-fact. We love partying. To us, a tour is a big party-holiday where we just do what we love. The worst thing about touring is the smell in the van after the second day. We can't really complain about anything. Touring Europe is always amazing. You have short drives, get a warm meal and a place to sleep every night. I don't know what else to ask for. I mean we didn't tour longer than 3 weeks in a row yet but you get to miss your loved ones at some point already. We invented a very typical saying: Thirst is worse than home sickness.
You're known as a hard partying band. What are your favorite drinks? Any fun party fact to share with us?
Somehow this rumor keeps coming up to us. I don't know why. Favorite drinks are possibly beer and whiskey but at some point we're fine with anything that's free. There's loads of cool stories of us partying. I just can't remember them. I have this drunk-alter-ego called Warius. Maybe you best ask him. He doesn't do interviews when he's more than 1 meter away from a bar though.
Where would you still like to go with the band?
We'd all love to tour the US for once. I mean it's like the worst thing you can possibly do with a European band but somehow we're all curios. That's definitely on our 'to-do-list'.
Germany is a big country with a rather big scene (bigger than Holland). Do you think this is an advantage or a disadvantage?
That's a hard one. I guess the German punkrock scene (at least for this kind of punkrock) is still growing. You have maybe ten good German punkrock bands. You have loads of mixed bills every night 'cause there not many promoters for this kind of music yet. The scene is growing and we're a part of it. That's awesome. I feel that the Dutch scene is more connected to the UK so you get these trends or whatever you wanna call it earlier. The shows we played in Holland were awesome and there are loads of amazing bands compared to the size of the country. Another point is that Germany is big enough to do like a 10 day-tour in it. You'd not be able to do that in Holland. I just don't know what's better :)
You also organize shows. Why did you start doing this? What do you thin k of the whole 'doing shows yourself' thing?
I started with small shows like 8 years ago. Just putting on shows for my former band and friends. Somehow I ran into a couple of 'booking agencies' then. I made friends with them and the bands over the years and somehow they keep coming back to our hometown. The shows here are amazing most of the time. Monchengladbach is not like a big city (300k inhabitants) but then there's like 70-150 people actually LOVING what they hear. It's not like every show is that good, sometimes you have to pay the food you cook out of your personal pocket. But yeah, it's a hobby. You get to know people and get your favorites bands to play in your hometown. Somehow it's all worth it even if you don't get any money out of it. If my shows make a profit, the money is split between the bands or I just donate to cool organizations.
Anything to add?
Thanks for the interview buddy. We're looking forward to the show in Heemskerk as we heard a lot of stories about that place from in Leagues Apart. BRING IT ON :)
www.allaboardnow.com
www.facebook.com/allaboardnow
www.allaboard.bandcamp.com
Well, that should be enough reasons for you to come and check this band out on Tuesday October 16th at Cafe Lokaal, Heemskerk, NL (20:00h, free in). Thanks to All Aboard for doing this interview.