LUTHER (US)
*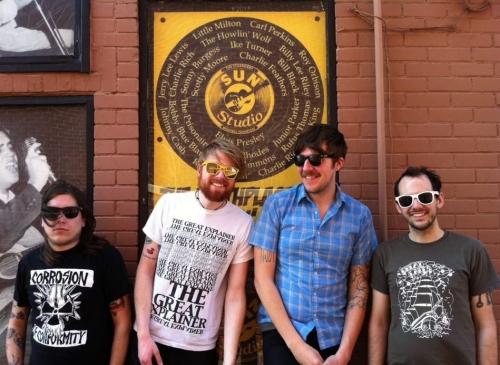 March 30th 2013 will be Luther's first ever show in Holland. Luther is a band from Philadelphia, US and are signed to Chunksaah Records. Currently the band is on tour throughout the UK with The Bouncing Souls and Cheap Girls. Nick was kind enough to take some time and answer some questions to get you to know the band a little better. If you're reading this we hope to see you at the show so Luther can get to know you as well.*
Could you please introduce the band? Well, there's Andy who plays drums, Greg plays bass and has the longest hair, Phil is the tallest and he plays guitar and sings about half the songs, and I'm Nick and I sing the other half of the songs and also play guitar.
How did you get to name the band 'Luther'?
We got it from the show "It's Always Sunny in Philadelphia," the character Mac's father is named Luther. That's not true.
Who or what influences your music? What are you listening to at the moment?
We actually all listen to really different stuff. In the van we all agree on Explosions in the Sky, None More Black, Tegan and Sara, and Baroness. Personally, I've been listening to a ton of We Were Promised Jetpacks and Converge on this tour.
Your album has been released on Chunksaah Records (runned by the Bouncing Souls), how did that happen?
When we started Kate (who runs Chunksaah) would come to our shows and became really good friends with all of us. We'd known her for a while, but it just sorta lined up that we all became quite close around the time our band was starting. Kate and I were driving to New York to see Wilco and she asked if we'd like to do a record with Chunksaah. It was a no brainer.
Also, you're touring with Bouncing Souls and Cheap Girls at the moment. How is that tour going?
This tour is one of the best tours we've done so far. We've done a bunch of shows with the Souls, and have played a few here and there with Cheap Girls in the states. We're actually sharing a van / backline / sound guy / tour manager with Cheap Girls and were a little nervous going in to it all, since we didn't know them that well, you know? However, by day two we were just a family. It's really nice to be on a tour where everyone loves each other's bands, but more importantly where everyone gets along and has a good time together.
How has the UK been treating you? What do you expect of the mainland? Any differences?
We are having a blast! It's not insanely different from a USA club tour, but everyone we've met seems to be a little more polite, which is a bit strange considering the general attitude of the Northeastern region of the US, where we're from. Mainland is going to be crazy I think. In the UK there's very little language barrier, but there's going to be a huge one in Europe. We're really excited! Since we released our first EP, people have been asking us to come to Europe, and we're really excited to finally come over.
What is the best thing that ever happened on tour? In California we met Buster from "Arrested Development," pretty much don't expect things to get better than that.
Do you ever argue on tour? If so, about what?
Well, at some point or currently we've all lived with each other, and when we haven't we've lived with in a couple blocks away from each other. Andy, Greg and I have known each other since we were children, so there's a lot of history between us all. At this point it's like a marriage, so we definitely argue. I think it's healthy. We aren't people to avoid calling out each other's bullshit.
What would your dream gig look like?
Personally, I've been geeking out to the thought of a Guided By Voices / Torche/ Luther tour.
Anything to add?
Thanks for talking to us!
And we'd like to thank Luther for doing this interview. We can't wait to see the band perform at De Groote Weiver, Krommenie on Saturday March 30th 2013 alongside Sweet Empire and The Minority. Doors are at 20:00h and it's €6 to get in. Hope to see plenty of you there.