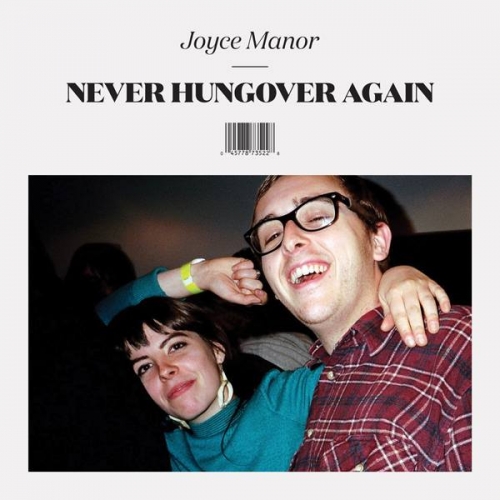 Joyce Manor are a terrific band from the US, Torrance (CA) to be precise. They just released their new album 'Never Hung Over Again' on Epitaph. North Empire said down with the band to discuss some random things leading up to their second European tour. This time they'll be touring with Cheap Girls (US) and Great Cynics (UK). Have a read below to see what Matt had to share, and what silly questions Jort had come up with. Could you first introduce the band to us?
Hi! We are Joyce Manor from Torrance, CA. My name is Matt and I play bass.
You've recently released your new album, 'Never Hungover Again', on Epitaph Records. How did come about? Any particular reason for going with that label?
We actually ended up talking with Epitaph after Mike from Asian Man Records suggested it to us. He felt like it would be a good step up for us, and after talking to them it felt like a really natural move for us. They are a really good team, and right up the street from us.
The new album contains similar short songs as the previous releases, but the sound is more polished in our opinion. Was there any/what was the reasoning behind this?
We had a lot more time to spend in the studio this time around. Our first two records were always a mad rush to finish in a really short time frame, and for the new record we had a couple of weeks to spend in a real nice studio in LA called The Lair. I think also as a result of trial and error the past few years, we are better at recording ourselves and knowing what works for us and what doesn't.
How do you write songs / lyrics? Could you explain a little about the process of writing? After Barry writes a song, he edits and revises it until it feels right, then we work it out together at practice. Chase wrote a lot of the lead guitar parts on the new record. Once Barry has a song he is happy with, we usually have it all put together and finished pretty quickly at practice. At this point, playing with these guys just feels completely second nature.
This is the second time you're coming over to mainland Europe. Though this time it's with Cheap Girls and Great Cynics. What do you expect of this tour? And what do you expect to be different compared to touring Europe alone? Super excited! We toured Australia with Cheap Girls last year and it was great. This being our second Europe trip, I think we have a better handle on what to expect this time around. It's 17 shows in 17 days, but I'm looking forward to exploring and doing as much touristy bullshit as I can.
Are there any European bands you know/like, and you would definitely want to check out/buy vinyl from?
I don't know a ton of current European bands, but I like a lot of that Swedish punk stuff, like Vanna Inget, Terrible Feelings, etc.
You'll be playing one show in the Netherlands on this tour. Are there any things you know about the country? Any preconceptions/prejudices about it?
We didn't have nearly enough time in the Netherlands last time we came thru, but Amsterdam was my favorite city of our whole trip. The countryside was beautiful, the food was great, and the people were so good to us. Can't wait to be back!
If there were one thing you could take on tour with you (anything, really), what would it be?
A fancy coffeemaking kit so I can have good coffee anywhere!
Now lets talk about your side of the big pond. Is there anything the Europeans could learn from your (DIY) music scene, and maybe vice versa?
Not to say that Americans are inhospitable, but the hospitality in Europe is really next level. Every place we have played in Europe, we were fed very well and given an extra comfortable place to stay. It really keeps morale high on the road.
Thanks for doing this interview! Is there anything you'd like to add?
Thanks Jort! Say hi to your rabbit!
*And thanks to Matt for the interview, the rabbit says hi back. Be sure to catch Joyce Manor live at North Empire Fest 2 on November 9th at De Bakkerij, Castricum, NL (16:00h, €8) along with Cheap Girls (US), Great Cynics (UK), Irish Handcuffs (DE), Bad Ideas (UK), and Sweet Empire (NL). Also, here's a picture of Jort's rabbit (on the left, photo by: Jonathan Minto):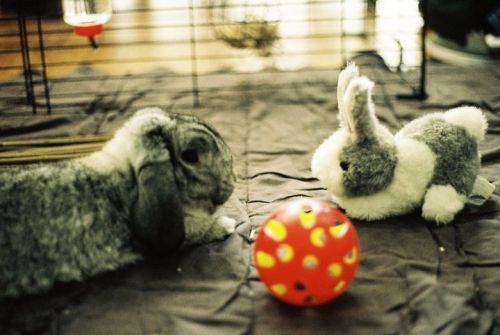 *